gemrig surgical set, civil war surgical set
ANTIQUE AMPUTATION SET
BY GEMRIG
Alex Peck Medical Antiques
All pictures and text on this site are copyrighted ©1982-2018 Alex Peck. All rights reserve.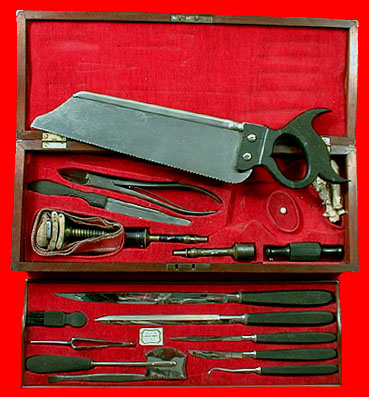 A fine c. 1860 amputation and trephination surgical set with instruments marked: GEMRIG. The lift-out tray retains the paper label: MANUFACTURED / BY / J.H. GEMRIG / 109 South Eighth St. / PHILADELPHIA.
The antique surgical kits is complete with its original sixteen instruments, and ten have ebony handles. The capital saw has a peculiar handle that is seen in sets by the English maker Wood, but only used in America by Gemrig. The instruments, case, and red lining are in superb condition.
______________________
Medical Antiques Sale Catalogue
_____________________________
DO YOU HAVE A GREAT SURGICAL SET TO SELL? I WANT YOU TO GET THE VERY BEST PRICE!
___________________________
Archives Articles Collecting Alerts
For additional surgical sets and other medical antiques, visit the various sections of this web site.